Vector Artwork Quote
You don't have a vectored artwork.....Don't worry!!!
We can vectorise it for you........
For Quotation Product Links please scroll down
Why use Vector artwork?
Our transfers look their very best when the artwork is a vector. They will look sharp and have clean lines.
We want our customers to receive the best quality transfers possible.....and your customer we are sure will also want the best quality image on their garments!
What is a Vector?
Vector artwork is a term that describes any art made with vector illustration software like Adobe Illustrator. Vector artwork is built from vector graphics, which are images created with mathematical formulas. In comparison, raster art (also referred to as bitmaps or raster images) is created with colorised pixels. Enlarge pixel-based art in a raster file too much and it looks jaggy, whereas you can enlarge vector art to any size without negatively affecting its appearance.

Do all images need to be vectors?
Not all images need to be vectored.....Photographs for do not require to be vectored. They do require to be 300dpi at print size and if the background is removed, it must be done correctly with no loose or semi transparent pixels.
Vectorised vs Bitmap/Raster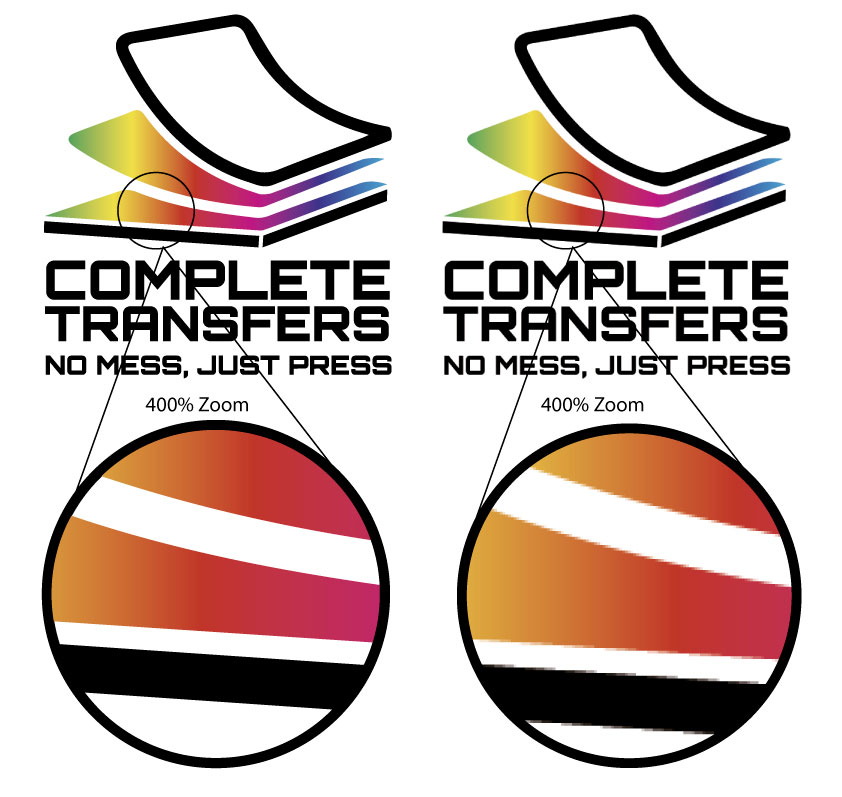 Our Vectorising & Background Removal Service
We can vector your artwork form any file format, giving you a high quality vector that you can save on file and use again on the future. We can also remove backgrounds in Photographs for you cleanly and precisely.
How do I order?
Click on the type of transfer that you require below. When redirected enter the of transfers you need, click ADD TO QUOTE button and upload your image tell us the dimension you require, along with any other changes or requirements & the colour of the garment that you will be applying them to.
We will send you a quote including the artwork charge and the transfers. If you are happy with the quote just click on the link in the quote email and Pay and Confirm the order.
Within 24hrs you will receive an artwork approval email with the vectorised artwork attached.
Once we receive you approval by email, you transfers will be placed i our production schedule and you will receive a scheduled date for completion by email.